Proud owner of a new Synology DiskStation or Router? Wondering what to do next - where to start? Can't sort your EXT4 from your BTRFS or your RAID1 from your SHR? We'll help you out by answering common questions asked by novice users on the
Synology Admins & Users Facebook Group
This guide is based on Synology DSM 6.2 and SRM 1.2
It is designed for new users in the SOHO market, but particularly the home user. Advanced users may suggest other, more advanced techniques that provide "better" solutions than those described below. But they also require advanced knowledge. I wish I had a dollar for every time I have heard an advanced user say, "It's easy, all you have to do is … " only to find myself embroiled in frustrating hours of effort, poring through ever more complex guides!
This is a guide for non techies, by a non techie (with input from techies.) It is, I hope, your Babel Fish.
Synology DiskStation / DSM
Which packages should I install on my Synology Router?
These are the packages that are available on the RT2600ac as of 23 Jan 2019 and the two that are highlighted are, for the novice user, the only packages that should be installed.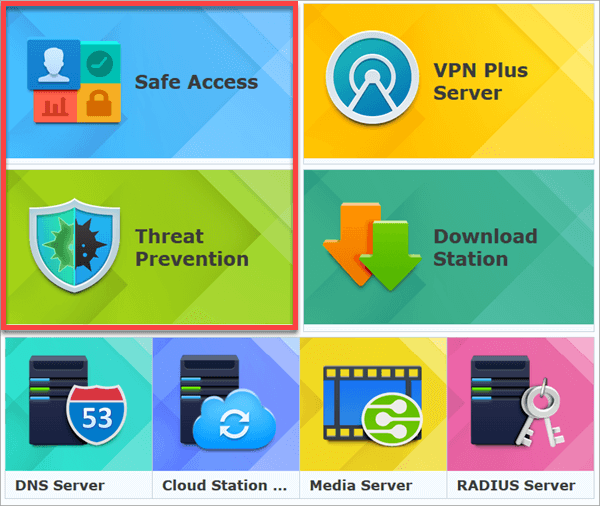 Any router has one prime purpose - to route traffic on the LAN (wired or WiFi) and to the WAN. That is a substantial task but in order to keep costs down the CPU and RAM in the RT2600ac is limited:

The last thing you want in your home network is latency caused by an overloaded router. Its limited resources should be dedicated to routing traffic. Every additional package will consume system resources and, anyway, there are usually better ways of providing the services contained in them. For example, all of the additional packages are available on a Synology DiskStation, and it's a reasonable bet that anyone who has a Synology Router also has a DS with a beefier CPU and more RAM.
Safe Access and Threat Protection should be considered as essential packages that need to operate at router level, to prevent dodgy packets infiltrating the LAN. More advanced users may have a separate box between the modem and router that will handle those tasks, in which case the router can dedicate all of its resources to routing.

Do not install any other packages than Safe Access and Threat Prevention
Should I install a USB HDD on my Synology Router?
As a long established supplier of NAS drives you can see how obvious it was for Synology to port some rudimentary storage capability to the routers.
There are two reasons why it's not a good idea
CPU Performance
As discussed in the section on installing packages on your router, the CPU and RAM are limited and the best use for limited resources is in routing data, not servicing file read / writes.
USB Drive Performance
The USB port on the RT2600ac is USB3 - that's good, right? But if you enable the 2.4GHz WiFi, the system will immediately downgrade the USB port to USB2 speed because of potential interference with the 2.4GHz channel. That's a massive performance hit to the USB drive. The alternative is to disable the 2.4GHz WiFi, one of the router's core capabilities - there are many devices that still use 2.4GHz.

If you want to share files on your network, use a NAS - you probably already are if you own a Synology router
Contributors
Nathan Poulos, Mark Ealey, Richard Lamb, Kyle D Owen, Richard Perritt, John Greenwood, Marius Bogdan Bogdan and Jim Preis from the Synology Admins & Users Facebook Group
Synology Admins & Users