Daminion & Synology Photo Station Integration
If you're lucky enough to own a Windows server then Daminion's web UI is a beautiful experience. But for many hobbyist Daminion users the choices are more limited, unless they own a Synology NAS drive (DiskStation or RackStation)

This article describes how to integrate Daminion and Synology Photo Station so that Daminion provides the back-end library management capabilities, and Photo Station the front-end web publishing service that allows you to share your photo library with friends and family.
Please note
The solutions I describe here are those that work for me. They have been developed by trial and error, and with lots of interaction with Daminion and Synology Support Desks. I hope they help those of you who are also Daminion and Synology users. If you have better ideas I'd love to hear them.


Health warning
I cannot guarantee that the techniques will work for you and, as with any valuable data, you must proceed with caution, try things out on test data before you commit to using live data, and be sure to have a good backup strategy in place. Every setup is different; I take no responsibility for any issues you may encounter, although I'll be happy to help if I can.
My needs are not complex and probably have a lot in common with other hobbyist photographers.
Manage an expanding library. At 20,000 images it's modest in size but no less complex because of that, with images going back to 1904, and hundreds of people and locations. And it is growing.

Categorise the library into:

People

Places

Date taken

Events (Weddings etc)

Animal world

Plant World

Miscellaneous area for things not classified elsewhere

Perform sophisticated metadata searches

Carry out batch metadata editing / assignment

Publish the library on the web:

Share links with people

Provide dynamic links to pictures of family members from my family history website


Provide rich web experience with

Access to images by the categories mentioned earlier

Ability for web users to provide feedback at image level

Make it available on any device, anywhere, any time.
Synology Photo Station capabilities
As I already had a DiskStation for my music library I saw no reason to pay a hosting fee for my photo library. And many DiskStation users buy one because of privacy and security concerns around commercial cloud solutions. For years my photo library had been stored on my PC's hard drive and backed up to my Synology DiskStation. Could I make the NAS drive the home location for my library and use Synology's Photo Station app as my private cloud publishing solution? Only one way to find out.

I moved the library over to the Synology DS216j, into the dedicated /photo location and waited while the file indexing service did its stuff. The library was 20,000 images and about 95 GB data so the indexing took a while. Later upgrades to a DS 716+II and then a 916+ made a dramatic difference to the indexing - 70 times faster!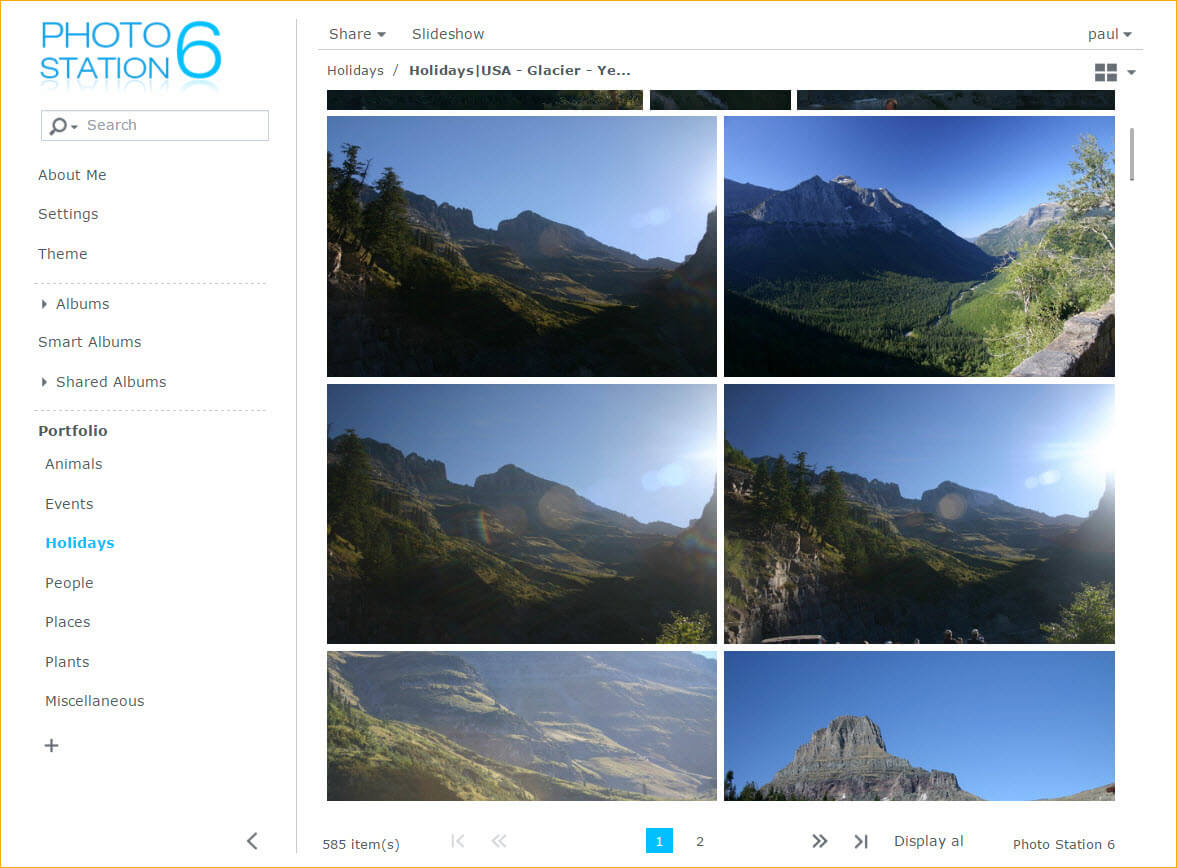 Photo Station's web interface is excellent with lots of ways to organise, display and share photos. It's search function is brilliant and while it does not support all the Daminion metadata tags or hierarchical keywords, it is far more capable than any of the online services. In fact, when compared to the cloud offerings of Microsoft, Google, Dropbox and the rest, Photo Station stands out from the crowd, and with PC, Android and iOS apps it covers all the platforms that I need.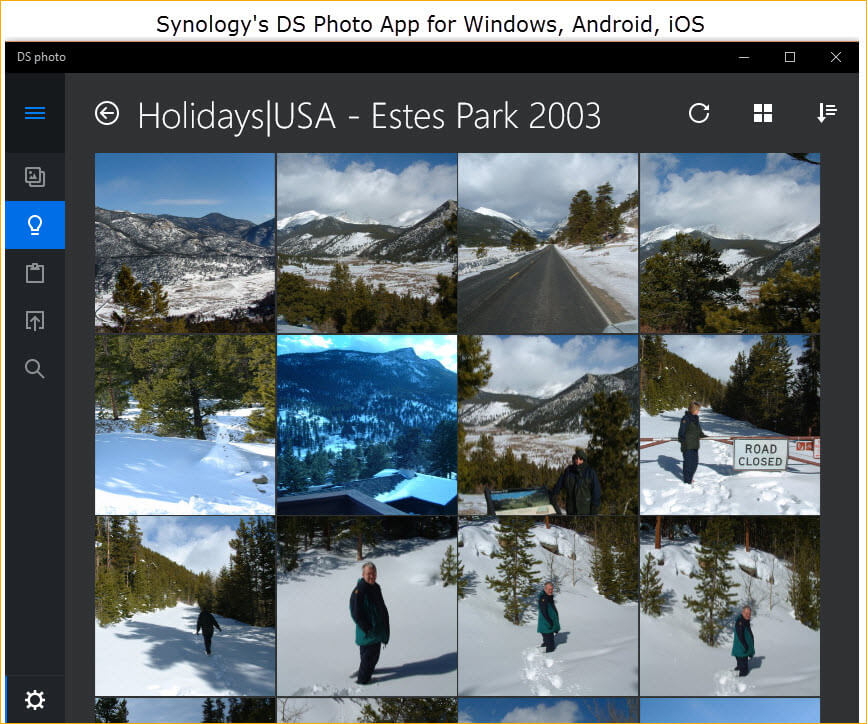 So, it was clear that this was the cloud publishing solution to use - and the bonus? It's a free app that comes with every Synology Disk Station. I am already invested in the Synology platform for data security. In effect, my private cloud solution for photos is free. No monthly hosting charges, and I have direct control of my precious files.
But what about metadata?

Having selected a really great web platform that will let me publish photos to my family on various devices 24/7 it was now time to see how well it handled metadata and general library management functions.
For the casual photographer it's OK. You can tag People, Locations and Keywords, with limitations. You can't group edit People tags, they have to be done one by one by lassoing a person's face and then adding their name – a tedious process.
There's no support for hierarchical tags either so something like:
... can only be represented in a flattened format:
Places, India, Madhya Pradesh, Indore, Mhow Leave Camp
... which is very hard to process visually especially when, even at the largest resolution, the UI truncates it:

Performance is an issue too, depending on the Disk Station's CPU and RAM. Tagging individual files is not a problem, but group updates take significantly longer through the web, especially as there is no background service to handle them while you get on with the next task.
Conclusion
Photo Station has a great web UI/UX but it's metadata management capabilities are limited - something better is needed to manage the library.
After bad experiences with Adobe Photoshop Elements and Lightroom I wanted something that could manage lots of metadata better. It wasn't difficult to find Daminion. A web search quickly gave me results such as:
http://www.hongkiat.com/blog/10-free-photo-managing-software-you-should-at-least-know/
Daminion has no photo editor but it lets you hook an editor into the app so you can call it directly for a selected image. No problem, I can use Photoshop Elements Editor for that.

Daminion is great for collaborative working across teams but to the individual user the big advantage of Daminion is its metadata handling capabilities. There are so many out-of-the box possibilities with support for hierarchical tags for People, Places, Events and Keywords plus others of increasing technicality too numerous to mention (see image on left for a full list.) I also became quite excited at the demo of the Daminion web server, but it doesn't run on a Synology NAS so my excitement soon disappeared. In theory a Virtual Windows Machine might have worked, but the hardware requirements were beyond the ability of my DiskStation.
I was pleased to see that the app allowed you to natively edit the image creation date – useful when you are handling scanned images from the days of film and don't want image sorting to be hampered by data that reflects the date an image was scanned, instead of the date the original picture was taken.
Group tagging was a breeze. The standalone version works well with the library hosted on my NAS although there is a small performance downside to this configuration - batch updates are slower than if the library was hosted locally. If you have sufficient space on your local HDD, you can overcome this problem by using Synology Drive - see later section for more info on that

Support is excellent, especially if you go for a paid-for licence (starting at $49.95 for a lifetime licence for up to 75K images for the standalone version, as at Sep 2018 - you can check it here). Not only is Support incredibly responsive, the User Forum is excellent too and, unlike vendors such as Microsoft, you get quick, helpful responses!
And, finally, on importing my images into its catalog, Daminion did a great job of reading all my existing keywords from Photoshop Elements (and by doing so allowed me to see what a mess they had become.)
You can give Daminion a free trial on a library of up to 15k images by visiting the download site. Look for the Standalone version.
There is an Enterprise Server version but it is aimed at small businesses so it is designed to run on a Microsoft server, not on a NAS.
There is a Home Server version which you can integrate to a NAS hosted library. The benefit of Home Server is that you can do a two way synchronisation between the Daminion and Photo Station libraries so that changes made in either application are echoed to the other. We'll deal with that later. For now we will concentrate on the standalone version, and link that to the NAS library

Synology Photo Station has some limitations but that doesn't stop it being a great front-end companion to Daminion's back-end library management capabilities.
If there was a Daminion Synology Package as an alternative to the IIS server web UI, along with PC and mobile apps, to match Synology's offering then that would be a brilliant solution for hobbyist photographers but it's not in the Daminion roadmap.
The Daminion / Photo Station combo is therefore as good as it gets, and it's a pretty good combo if you do it right.
If you already have a Synology DiskStation ,the Photo Station app is one of the free apps in the Package Center. If your library is less than 15,000 images Daminion standalone is also free. Up to 75,000 images will only cost $49.95 and unlimited is 5¢ short of $100.
The spec of the DiskStation will be a factor when your library is large due to the indexing load. Performance on a 216j with a 20,000 item library was acceptable but not brilliant. It's definitely a power hungry app that benefits from a higher end DiskStation such as a DS718 or DS 918.
Synology Moments is much less power hungry but is not (yet) suitable for large shared libraries.
Which app for which function - a table (reprise)
Just in case you missed it before, this table summarises which functions you should perform In Daminion, and which in Photo Station and, perhaps more importantly, which functions you should ignore in each of the applications.
Daminion and Synology Functionality Table
Recommended
You could, but...
Definitely NOT
No Functionality
Key
Blank Cell
________________________________________________________________________________________________________________________
Function or Feature
Daminion
Photo Station
File Station
Explorer
Comments
Initial transfer of files to Disk Station
Add files from camera
See Notes 1 and 2
Add, edit, rename, move, delete folders and files
Rotate Images
See Note 8
Daminion Event
Daminion People
Daminion Place
Photo Station Location Tag
Photo Station People Tag
Photo Station Face Recognition
Daminion Keywords - use instead of Daminion Event, People, Place and Photo Station Location and People Tags
Add / edit / delete Daminion Keywords (Photo Station General Tags)
Geotag
See Note 6
Edit Photos
See Note 3
Create Portfolio Categories for quicker browsing
________________________________________________________________________________________________________________________
Function
Daminion
Exif Tag Remover
ExifTool
Comments
Bulk erase metadata tags
See Note 4
Align dates
See Note 5
Remove GPS data
See Note 7
________________________________________________________________________________________________________________________
Note 1: You will have to rescan folders in Daminion if you don't use the recommended method
Note 2: You could use DS Photo Uploader but Note 1 would then apply
Note 3: Daminion can call an external editor
Note 4: Daminion's capabilities are not as good as Exif Tag Remover or ExifTool, but using either of the last two apps will require a full rescan of the folders in Daminion to pick up changes
Note 5: You will have to rescan folders in Daminion whichever app you use
Note 6: It's best to geotag in Daminion so you can match geotagged images to Daminion 'Places' keywords. Daminion geotag locations can be adjusted, Photo Station's can't
Note 7: You will need to Read Tags From File in Daminion after you've cleaned the GPS data
Note 8: Varies case by case. See specific post on Rotation for an explanation and workflow / decision tree
This table summarises the recommended place to perform (and not perform the functions that will make Daminion and Synology Photo Station work best together.)


When to turn Auto-Sync OFF
This step is especially important on the lower end DiskStations
If you are going to import a large batch of images it's a good idea to temporarily prevent Photo Station from indexing the new images before you have had a chance to tag them. For small batches on powerful DiskStations the overhead of the same images being re-indexed as you import them, and again when you tag them will not be an issue. There will be a tipping point at which the re-indexation becomes an obstacle. This will vary depending on the power of your DiskStation, the speed of your network and your personal tolerance level.
When to use WiFi and when to use Tethered
If the images are located on a camera or removable drive use the Daminion > Add Files option to import them to the library. Refer to standard Daminion Help for details on how to do this.
If the images originate from physical media (prints, negatives, slides) you may want to adopt a different approach. Because all scans need some post scan editing work I prefer to do that locally, before I import the image to Daminion. This not only saves unnecessary re-indexing and thumbnail conversion in Photo Station, it also avoids the need to recreate thumbnails in Daminion.
Scan to a local folder on your hard drive.

Use a photo editor to crop, rotate and adjust image characteristics.

Upload to a 'Scans' folder in Daminion Catalog.

Rescan folder to import image(s) to library.

Edit Creation Datetime in Daminion Properties Panel.

Move the images to a date stamped folder.

Highlight last imported scans by using Saved Searches > Last Imported in preparation for tagging them.
Moving, changing, adding and deleting folders and images
Where should you add, move, delete and rename folders and images when it is possible to do this in at least three places, Windows Explorer, Daminion and Synology File Station?
Always do these changes in Daminion. It's not that Daminion can't handle it if you do these operations elsewhere but (at least in the standalone version of Daminion) the process to get the folders and contents in back in sync has to be invoked manually, and if you have renamed any images it will result in some clean-up work.
Re-scanning the folders from inside Daminion will pick up any changes made in File Station or Windows Explorer but depending on the size of your library and how high up the folder tree you invoke the re-scan, it can be a very time consuming process.
However, re-scanning can easily be avoided if you do all folder and image work in Daminion. This includes uploading files from a digital camera – the Daminion import routine is as good as it gets.
Files and folders can be moved around in Daminion using drag and drop. The only option that is not so easy to find is renaming a file. The intuitive action to right click the file name does not work nor does the Actions drop down menu where a lot of really helpful functions can be found. Instead, you need to:
Choose Edit > Rename from the main menu
or
Press F2, which is the generic quick key in Windows Explorer
Note: An occasional RE-SCAN is no bad thing.
Periodically it is a good idea to vary out a complete housekeeping re-scan of your folders in Daminion. Consider it good housekeeping. It will remove any deleted images from the catalog and pick up any strays that have found their way into the folders but not into the catalog. But remember that scanning a large NAS based library will take time. Be patient, and remember to turn off sleep mode on your PC while the process is running.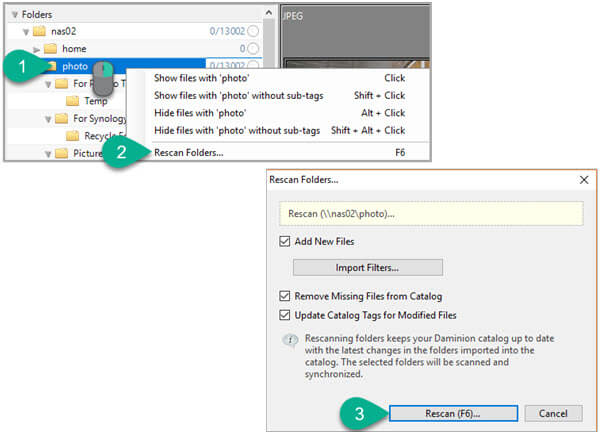 Conclusion
File and folder management is easy and intuitive in Daminion. You need to overcome your instinct to make file and folder changes in Windows Explorer or Synology File Station. Those two operating systems will be fine with whatever changes you make in Daminion, but they can't update Daminion's catalog. For that you need Daminion's Home Server version, which has a folder watch service to pick up changes on the Disk Station.
When you are creating user accounts in DSM for users who are only Photo Station users, take care of the following:
Application Permissions

If the user is only going to use Photo Station do NOT accept the defaults. Change the settings to Deny all applications.
Note: DSM will still create Home folders when it creates the account. They will remain empty because they can't be accessed by the user. If you want to keep your Homes folder tidy you could delete them in File Station - it won't affect the user's account. However, if you have any reason to believe that you may want to offer other DSM based access to the user later, then you should preserve the home folder because it maybe required to support those services. For example: Synology Drive and Moments.
Backup the Data
You need a backup strategy. You have invested a lot of time and effort in taking, storing and cataloguing your photo library and you don't want to lose it. A 3-2-1 backup strategy is good practice.
= your primary live version

= an on-site backup

= an off-site backup
1. Primary - RAID
How secure is your primary version? If you have a one-bay DiskStation you should seriously consider upgrading to a multi-bay enclosure and use RAID or Synology's SHR.
In a one-bay system if the disk goes bad, you may lose everything and will need to purchase a new disk, reinstall DSM and restore your content. In a multi-bay system set to mirror the disks, if you lose one disk the system will continue to work while you source and replace the bad disk.
2. Local Backup
USB HDD Backup
All current DiskStations have a minimum of 1 x USB3 port, so backing up to one (or a rotated set of several) USB HDD is a basic but cost-effective backup strategy. But storing the disks close to or somewhere on-site is a risk. Fire, flood or theft will probably take out your local backup as well as the primary.
Second DiskStation
The problem with backing up to USB HDD is that if the backup disk goes bad you will lose your backup. The solution to that is to use a low end two-bay DiskStation as a backup target. I use an otherwise redundant DS216j for this purpose.
That secures the data from HDD loss, but also allows Hyper Backup to maintain a rolling sequence of backups sets. However it's still on-site, which is a risk.
3. Remote Backup
Third DiskStation
The final strand in a 3-2-1 backup strategy is to have a remote backup set.
If you are fortunate enough to have a second spare DiskStation and you have a willing, trusted friend or relative, perhaps you could place the unit at their house, and have a reciprocal arrangement? Or maybe you have an office in your garden?
Cloud Backup
My preferred remote backup is a cloud solution. Synology supports range of cloud services but my preference is to use the Synology C2 cloud backup, simply because it's easy to set up, uses the same Hyper Backup application to manage the backup sets that is used to manage the local ones, and uses some neat technology to reduce the size of backup sets.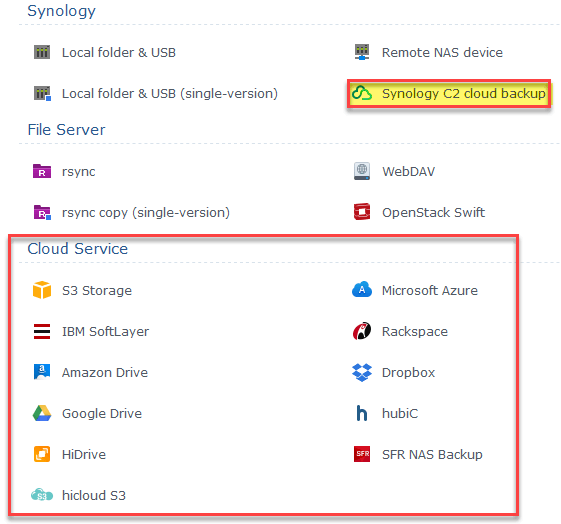 And for Amazon Prime Members
Currently, UK Amazon Prime members are allowed unlimited photo storage. This is the statement on their website as of Sep 2018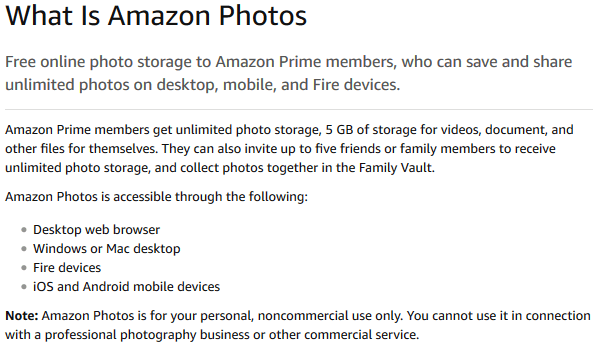 You can sync your /photo library from your Synology DiskStation using Cloud Sync: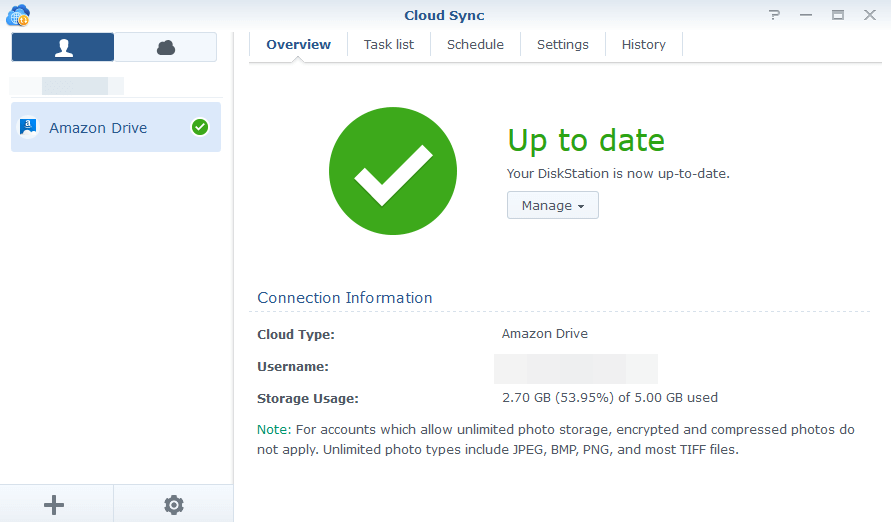 This provides you with yet another off-site backup for you content and if you adjust the settings to uni-directional (1 below) with preservation of the online copy when the local is deleted (2), you have another place where you can protect yourself from accidental erasure of content.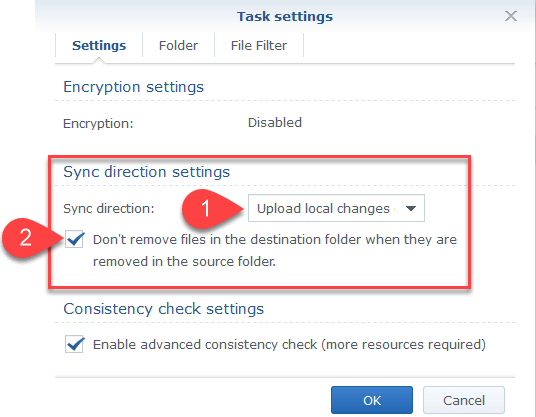 Keep applications up to date
Now that you have installed Photo Station, your Disk Station is public which means it is a candidate for attack. DSM is very secure but even if you decide not to upgrade to the latest Daminion release, you should ensure that DSM and Photo Station are kept up to date so that you have the latest security patches in place.
Periodically rescan all folders to synchronise with Disk Station
Unless you are running the home server version of Daminion there is a risk of the folders in the Daminion Catalog becoming out of sync with Photo Station. Although the recommendation is to do all file and folder management in Daminion, it's easy to forget and add, delete, rename or move a file of folder in Photo Station, File Station or Windows. A periodic rescan of folders, from the root of the /photos folder will pick up these changes.
Periodically check for Unsynced Items
Unsynced items are those where the metadata may not have been written to the image files and which will therefore not display correctly in Photo Station. This count should be zero.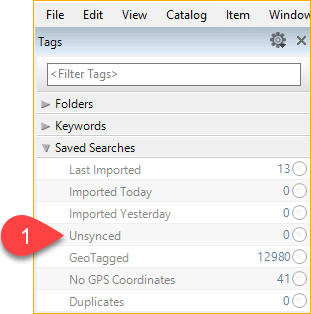 Periodically check for Untagged Items
Every image should have a least one tag or it it will not be discoverable in keyword guided selections, or by searching in Photo Station or Daminion. Ideally this count should be zero, or you should know the reason why an image is not yet tagged.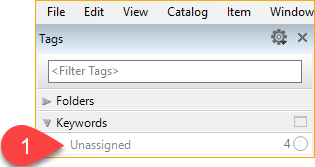 Synology Drive and Moments
In Nov 2017, Synology introduced a new package - Synology Drive - which is their take on the cloud/local sync concept offered by Google Drive and Microsoft One Drive (amongst others), using a Synology DiskStation for the "cloud" part of the solution. At the same time, the Moments package was released - Synology's latest generation photo management app. The implications of that app are covered in a separate article.
This section explores the impact Synology Drive has on the Daminion / Synology integration.
Synology Drive Features & Impacts
Sync
Drive enables a user to set up multiple synced folders between the Synology DiskStation (DS) and their computer. This can include a sync to the user's private Drive folder (which is located in the Homes folder on the DS) but additional sync tasks can be set up, for example, to the \photo folder which Photo Station uses. The folder to be synced has to be enabled in the Drive Admin Console. Sync tasks may be one or two way. Two way makes most sense with Daminion and Photo Station. Changes made to the local version of a Drive file will be synchronized in the background.
Versioning
Drive has server-side file versioning. You can set the number of versions of a file that you want to keep. It's an excellent function, but it's completely independent of and conceptually different to the Daminion Version Control function, so you need to be clear about which version of versioning you are referring to!
Speed & Convenience
Any DAM requires fast access to the source files. In theory, with all actions running from a local source, file access times should not be throttled by LAN performance.
"Does Synology Drive respond as fast as an unsynced local HDD and better than a mapped drive?"
To test this I took a batch of 1,000 files (JPEG and TIFF - some up to 200MB) and imported them into a new local Daminion Catalog. I did this for an unsynced HDD, repeated it using Synology Drive synced to to the same HDD, and then repeated it again, for a mapped network drive. The latter two tests were performed to a Synology DS916+ using a hardwired connection on a Gigabit LAN. Then I tested the speed of a "Write Tags to file" action in the same environment. The results were:
Image Source
Time to Load 1,000 files
Relative Speed
Load files into catalog
Unsynced local HDD
00:08:22
Reference point
Synology Drive
00:09:04
+8.4%
Mapped Network Drive
00:09:15
+10.5%
Write metadata to file
Unsynced local HDD
00:09:36
Reference point
Synology Drive
00:09:51
+0.7%
Mapped Network Drive
00:12:02
+23%
As expected, the unsynced local HDD was fastest. Surprisingly, Synology Drive was significantly slower than the unsynced HDD when creating the catalog, although there was no appreciable difference when writing the tags to file. The mapped network drive performed worst of course, being 10.5% slower to create the catalog, and 23% slower to write the tags.
Freedom from tethering
Using a WiFi connection to connect a Daminion Catalog to a mapped drive would not usually be recommended, because of fluctuating WiFi performance issues and potential harmful effects on files if the network drops while a file is being written - the simple act of closing a laptop lid could cause that. The background sync of Synology Drive together with its auto resume solves that problem and makes WiFi connection viable, although a hardwired connection is preferable if large scale edits are performed.
Syncing to multiple computers
Another benefit of Drive is that it is possible to set up sync tasks on multiple computers to the same target location on the DiskStation. This is useful for a one-person operation when switching between machines but whether this is scalable to a true multi-user environment is unknown (but then I expect multi-user sites will be using a Windows Server, so it's a moot point.)
Impact On Daminion Home Server
There is little impact on Daminion Home Server. You continue to have two options:
Do the majority of your library maintenance work in standalone Daminion, in the knowledge that this will automatically update Photo Station. If you make an edit in Photo Station, you will need to perform a refresh folders (F6) operation in Daminion to resync the Daminion Catalog. For many home users this is an adequate solution.

Install Daminion Home Server so that Daminion can monitor the server folders for changes and update the Daminion Catalog. If you are making frequent changes to the \photo folders and files at server level, this is the option to choose. The Daminion Home Server is, of course, monitoring the server-side copies of the local files which, at the moment the Daminion folder watch service runs, may not have been synced by Drive. However, this should resolve itself given time for the processes to complete.
Impact on Synology Photo Station and Daminion Integration
Drive is an alternative way of moving content onto the server. Therefore any of the integration steps that deal with that topic are affected by this new product. The access point becomes a local synced drive instead of a mapped network share, which simplifies things for the user. But in all other respects the integration is unaffected.
It's a matter of personal choice whether to adopt Drive. If you adopt it for non photographic purposes you will likely do so for photos too because you will find it so much more useful than mapped drives. It's also another way of securing your primary data - see section on Backup

In Nov 2017, Synology introduced a new photo management package called Moments. This is part of an integrated suite of apps that include Drive, Calendar, MailPlus and Synology Office and is Synology's answer to Office 365 and Google apps.
This section explores whether Synology owners can use Moments as a substitute for Photo Station as the web front end to Daminion. Synology Drive is a prerequisite to Moments
The Future of Photo Station
Synology say that the two products are complementary, with Photo Station aimed at serious photographers and Moments at casual users - people who want to organise their selfies, as one forum member suggested.
Synology Moments Features and Impacts
Public / Private
Moments and Photo Station differ in one esential way. Photo Station uses a standard shared folder \photo that is public by default. Therefore Photo Station is publicly accessible too (although it can be locked down.) Moments takes the opposite view - each user has a Moments folder that is nested inside their personal Drive folder which means that the photos are private unless explicitly shared. If your intent is to share management of the library with other users or for your entire library to be publicly available on the web, this creates some challenges which will be dealt with later.
Setup
Moments is much easier to set up than Photo Station which has so many configuration options that it can be a challenge to get it right. Because it is private by default, Moments is able to use fewer configuration options.
User Interface
Moments UI is simpler, cleaner and looks much more modern than Photo Station's.
Face Recognition
Photo Station's FR is a beast - there's no other way to describe it. It is a resource hog and creates so many false entries that it is a waste of time. Moments' version is a quantum leap forwards. It is very fast and seems to be free of the glitches that caused Photo Station to identify features in the landscape as faces.
However, it has a fundamental flaw. It misidentifies people, so you end up with a group of photos linked to a person label that includes wrongly identified people. And there's no way to remove or relabel the incorrect entries. This renders the feature useless, so I turn it off.
And, as every vendor on the planet knows but doesn't address, FR is only part of the solution to the challenge of People Recognition. Unless a person is shown full face or with a substantial partial face, they cannot be recognised. You will always have to manually tag people who are in profile or are seen from another angle, and Moments has no facility to tag these as people because it's only concerned with faces. That doesn't work for me this is another reason to turn FR off.
Places / Geolocation
Photo Station has some issues with geolocation, the most significant being that it frequently fails to find a match for the location you enter, forcing you to search by postcode or by panning the map, and then to manually move the marker. Having done so, you cannot edit the label to the one you want. Accept the old label and the marker moves back to the original position.
In Moments, you don't search for a place. Instead it assumes that all images already have GPS coordinates and performs a reverse lookup to derive an address label for the image, and then it groups matching items together. That's great if you are using a smartphone with GPS, but very few DSLR cameras are GPS enabled. The vast majority of my photos have no GPS coordinates and I have to add those manually using Daminion.
Again, there is no ability to edit the Moments label, which is unfortunate because they can be wildly inaccurate. For example the auto-applied label, United States of America, Utah, Washington County, Left Fork of North Creek is actually Zion National Park! And in the rural area where I live, the same, very inaccurate, label is applied to places within a 5 mile radius of each other which is crazy when GPS is accurate to less than a metre.
Because of these inaccuracies I have disabled Places.
Object Recognition
All the big players are offering automating object or subject tagging, the theory being that you don't have to spend time tagging and can find your photos easily. The reality is very different. Of the hundreds that were created for my library, the number of useful auto subjects was... zero. Here are some examples of how inaccurate they are: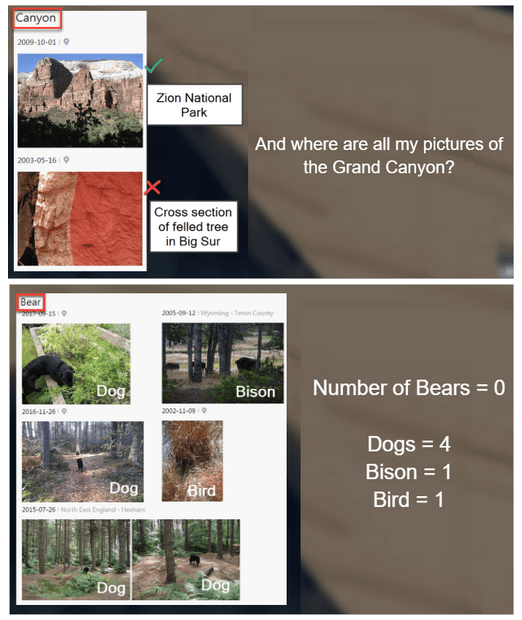 Recognising the built environment is no better. A picture of the Eiffel Tower was labelled as "Architecture."
Automatic subject tags cannot be edited, and incorrectly identified items cannot be removed so, once again, this functionality is of little use for the serious photographer.
To be fair, Synology is not alone in this. I tried the same photos with other apps from big players like Microsoft and Google and they all performed as badly. AI has a way to go before subject labelling is going to be useful for serious photographers.
Auto Tagging - Conclusion
Whether it's Faces, Places or Subjects, automated tagging is currently only useful to the casual photographer. If all you are trying to do is organise a few hundred photos then you will probably forgive the occasional wrong label.
What we have is a classic trilemma. The serious photographer needs a DAM app such as Daminion to enable them to manually tag their library. Auto tagging is free and fast but it is not accurate. Manual tagging is slower and not free, but it is accurate.
Keyword Support
So, as far as auto tagging is concerned it turns out that Moments is no more useful to the serious photographer than Photo Station. The good news is that, like Photo Station, Moments supports keywords embedded in the image files. And it recognises the same keyword set that Photo Station uses, so if you want to transfer to Moments, you do not need to rework the metadata.
Accessing the keywords is a little different. In Photo Station the keywords are presented as general tags in a set of alphabetically sorted thumbnails. Moments also uses thumbnails but presents them in random order. Scrolling to find a specific keyword is almost impossible in a large library. The best way to find a keyword is to use the search function. Fortunately this is very fast, just like Photo Station, and you will see matching keywords as you type which is very helpful if you are not sure what search words to use..
Sharing content
In Moments you can share:
Files

Albums. An album is a collection of files that you select manually and assign a name to. You can add content to an Album retrospectively.
You can't share folders, but you can put the contents of a folder into an album in a couple of clicks.
In Photo Station you could create URLs that performed a seeded search of the public library. You can do that in Moments but they won't be public shares, you will need to login to see the search results. Not good.
Sharing has been made far less complex than in Photo Station. Everything you need is on one dialog box that appears when you have selected the content and pressed the share button: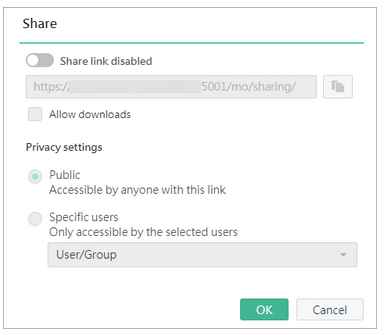 Shared links do not appear in any central library so you need to keep track of them separately, perhaps in Note Station. You could also create a public web page of your links. Or you could create a publicly shared Synology Office document that contains the links.
Be aware that if you move shared content, the share link will break.
How to make Moments your core library
Despite all the downsides, you may decide that you would like to use Moments as your core library. With effect from Moments version 1.2.o-0638 you have two options:
Create a private library by moving your content

Make the standard /photo share available in Moments
1. Copy / Move your content
Photo Station requires the content to be in the /photo share. Moments will not work with that share, even if you make it a Team Folder. The images must be in your My Drive location. And the best place for them is /home/Drive/Moments. If you don't use that location but put them elsewhere inside My Drive then you will need to tell Moments to look outside the standard location. You do this here: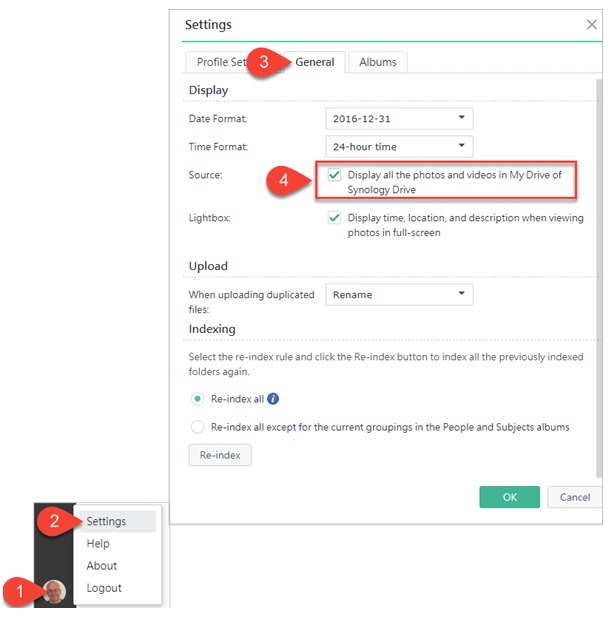 2. Make the /photo share available in Moments
The process is described here
Any change, move, add or deletion that is made in Moments will be reflected in Photo Station. The Daminion Catalog will be out of sync until you rescan the folders. This would be a good use case for adopting Daminion Home Server.
Conclusion
Moments could be a worthy alternative to Photo Station for the hobbyist user. Setup is so much easier, the UI more attractive, and sharing is mostly better than Photo Station. New releases are coming quickly and the issues that prevent me recommending it as a definitive alternative to Photo Station may be addressed. For now Synology Photo Station is king.
I hope you found this guide useful. I review it periodically as the technology changes, and I am always open to ideas about how it could be improved. If you have any questions, please use the Comments section below or the Contact menu option.